Impalers are stationary enemies found in the Ancient Sewers and the Dilapidated Arboretum.
Behavior
[
]
As the player gets in its range, the Impaler will summon massively damaging spikes from underneath the player's area. There will be a brief period where you will see a red indicator on the ground of where the spikes will appear. Falling onto them after they've come out of the ground will not damage the player. The spikes cannot be avoided by rolling or parrying.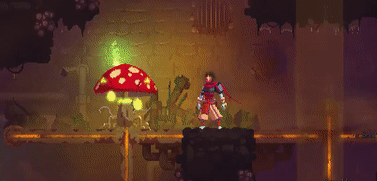 Strategy
[
]
These enemies are very dangerous, and as such, should be top priority when engaging a group of enemies. They can damage the Beheaded over a wide area, so you'll want to take them out first.
The spikes cannot be dodged by rolling through them or parrying, the only way to dodge them is by jumping at the right moment.
In exchange for being static, it sees through all obstacles and has great range, but the radius of spike spawn is very limited, so it can be outran.

Platforms are not an option, as it somehow spawns spikes there too.
Trivia
[
]
In previous versions of Dead Cells, this enemy was called Spiker.
History
[
]
Enemies

Zombie  • 

Shieldbearer  • 
Undead Archer  • 

Grenadier  • 

Oven Knight  • 

Knife Thrower  • 

Rampager  • 

Failed Experiment  • 

Runner  • 

Bat  • 

Protector  • 
Scorpion  • 

Disgusting Worm  • 

Kamikaze  • 

Rancid Rat  • 

YeeterTBS  • 

JerkshroomTBS  • 

Thorny  • 
Slasher  • 

Masker  • 

Hammer  • 

Sewer Fly  • 
Lacerator  • 

Slammer  • 

Shocker  • 

Toxic Miasma  • 

Buzzcutter  • 
Inquisitor  • 

Sweeper  • 

Festering Zombie  • 

Corpse Worm  • 

Impaler  • 
Sewer's Tentacle  • 

Spawner  • 
Corpse Juice  • 

Bomber  • 

BanishedTBS  • 

BlowgunnerTBS  • 

Giant TickTBS  • 
Weaver Worm  • 

Cleaver  • 

Pirate Captain  • 
Weirded Warrior  • 

Swarm Zombie  • 

Corpse Fly  • 

Catcher  • 

Caster  • 

Golem  • 

Dancer  • 

Dark Tracker  • 
Corpulent Zombie  • 

Cannibal  • 

Bombardier  • 

Automaton  • 

Ground ShakerRotG  • 

ArbiterRotG  • 

Demon  • 

SkeletonRotG  • 

Myopic CrowFF  • 
Cold Blooded GuardianFF  • 

Stone WardenFF  • 

ApostateFF  • 

Failed HomunculusFF  • 
Clumsy SwordsmanFF  • 

Dastardly ArcherFF  • 

Compulsive GravediggerFF  • 

Guardian Knight  • 

Lancer  • 
Royal Guard  • 
Infected Worker  • 

Living Barrel  • 
Demolisher  • 

MutineerTQatS  • 
Armored ShrimpTQatS  • 

Agitated Pickpocket  • 
Gold Gorger  • 

Golden Kamikaze  • 

Mimic

True Ending Spoiler (5 BSC):  

RotG

 • 

RotG

 • 

RotG

 • 

RotG