The Pure Nail is a melee weapon which can be swung above and below, as well as horizontally, depending on player input. Vertical attacks deal critical damage.
Details
[
]
Special Effects:

Can attack while moving at the same time.
Can attack upwards, or downwards while airborne. Attacking vertically deals

critical

damage.

Attack direction depends on the directional movement input from the player.
The downwards attack also allows the player to bounce off enemies and spikes.

Breach Bonus: -0.5 / -0.5 / -0.5 / -0.5

Base Breach Damage: 22.5 / 27.5 /

30

/

40

Base Breach DPS: 77.5 (

109

)

Combo Duration: 1.7 seconds

First Hit: 0.4 (0.1 + 0.3)
Second Hit: 0.4 (0.1 + 0.3)
Third Hit: 0.5 (0.15 + 0.35)
Fourth Hit: 0.4 (0.15 + 0.25)
Location
[
]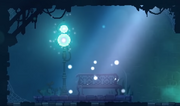 In the Prisoners' Quarters, there is a chance for a lore room to spawn with a bench in it. When examining the bench, the nail drops. Picking it up will unlock it permanently.
"This place feels so... peaceful."
"I feel like sitting on it would be a great relief."
"It's good to be right."
Notes
[
]
Due to this weapon's fast animation speed, but high attack cooldown, it works well for alternating between attacks with another weapon to increase damage output.
The Nail is unique in that the player can slash up and down as well as horizontally. Slashing enemies from above has a slight recoil, or "bounce." Attacking enemies from above or below is relatively safe, although this weapon struggles against bosses.
This weapon's guaranteed critical hits when attacking vertically give it a big advantage in biomes with lots of platforms. The upward slash is also very useful against flying enemies.
Being a rather middle-of-the-road weapon, the Nail pairs well with most other tools and weapons, including shields, ranged weapons, or even a second melee weapon.
Trivia
[
]
This weapon is a reference to the Pure Nail - the fully upgraded form of the main weapon in Hollow Knight.

The weapon's flavor text refers to one of the lines of the Nailsmith, the creator of the Pure Nail.

The location of the weapon is also a reference to the save point benches in Hollow Knight.
History
[
]
Weapons
Melee
RotG

• • • • • • • • • • • • • • • • • • • • • •

TBS

•

TBS

•

TBS

• •

FF

•

FF

•

FF

• • • •

RotG

• • • • •

TQatS

•

TQatS

•

TQatS

•

TQatS

•

TQatS

•

TQatS

• • • • • • • • • • •
Ranged
RotG

• • • • • • • • • •

RotG

•

RotG

•

RotG

• • • • • • • • • • •

RotG

•

TBS

• •

TQatS

•

TQatS

• • • •
Shield
RotG

•
• • • • • • • • • • • •